Those High Ministerial Phone Bills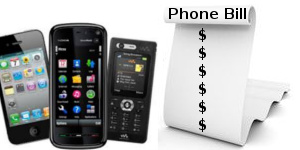 The recently tabled report of the Auditor General has ignited another firestorm, this time surrounding the size of the annual phone bill incurred by ministers and their juniors. It is beyond the imagination of the general taxpaying public that one person can possibly incur telephone bills in excess of one million dollars for one year of "talk". Perhaps this difficulty in grasping the possibility of such huge bills is fueled by the generally low call rates that Jamaica currently enjoys, and the government's own policy of fiscal restraint. How much talk can one person do to cause such an astronomical phone bill?
One response was that these costs can be traced back to the high roaming charges that ministers incur whenever they use their phones while they are overseas. This may be true but that explanation has not appeased members of the public who are still puzzled as to how ministers' phone bills are so high, and when do they find time to work? Another explanation is that the bills are incurred doing the course of the nation's business. After all, ministers must call their constituents, colleagues, foreign counterparts, business leaders, other stakeholders, and a whole host of others in conducting legitimate business within their portfolios. Again, this may be true but the public has not gone past the numbers. A million dollar phone bill is still too high.
The fact that some ministers have somehow managed to keep their phone bills low, for example Ministers Bunting and Golding, demonstrates that there are ways to manage ministerial phone bills and get the work done. A suggestion that has been made by observers of this debacle is that more use can be made of relatively low cost or free services like Skype, email, and other tools as substitutes to the cell phone. The taxpayer simply cannot afford to pay for such blatant waste! Management of expenditure is a responsibility of ministries and it does not appear that all ministries possess a telephone policy that all, including the minister, must abide by. It may be that Permanent Secretaries in ministries should direct that such policies be put in place and enforced. Alternatively, the Cabinet itself may be inspired by this exposure to plug the loophole itself and approve a policy for minister's use of technology to lower communication costs.
Then again, is much being made of this telephone bill issue? Are there other items of ministerial expenditure worth examining? It is apparent that there are certain privileges associated with being a government minister that should not be denied and that these perks are justified and money must be found to finance these. While other governments in the region, like Barbados and Trinidad & Tobago, are trying to cut costs, Jamaica appears to be doing the opposite even while saying it is also on the path of fiscal prudence and restraint. The tightening fiscal space that Jamaica is now experiencing, coupled with the terms of its agreement with the International Monetary Fund (IMF), do not provide room for Jamaica to waste money. Every cent counts and this latest revelation of excesses in "talk" expenditure cannot be allowed to go without repair.