State Funding for Political Parties, Is this Necessary?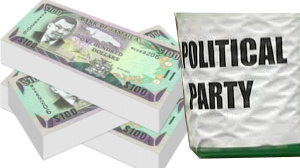 A new amendment to the Representation of the People Act (ROPA) will provide for the financing of political parties from the national budget. Such political parties are to be registered under this amended Act and the level of state contribution to their costs is limited to no more than 40 per cent of the party's income recorded over the prior financial year. What is being proposed under this amended Act is to finance the cost of operating a constituency office, paying staff and general housekeeping. This will not extend to the financing of political campaigns, which is to be the subject of other legislation to follow.
Once the amended law is in place registered political parties will be able to receive state funding for operations as well as for registration and regulation. This amendment to the Representation of the People Act (ROPA) is part of the recommendations presented to Parliament by the Electoral Commission of Jamaica in 2013. Their recommendations included to register political parties that intended to contest any electoral polls. Political parties that are in receipt of state funding will however be required to provide annual financial reports that are produced by independent public accountants for submission to the Electoral Commission of Jamaica. Sums approved by Parliament toward the funding of registered political parties are to be equally distributed among the parties that qualify for assistance from the public purse.
Not all Parliamentarians were in agreement with the current proposal and one vocal opponent was Everard Warmington who protested that this is tantamount to using "poor peoples money" to fund political campaigns. While this objection speaks to the understanding held by Mr. Warmington about the intention of the bill, it also points to a generally held attitude among Jamaicans that political parties do not deserve state funding as they are capable of financing themselves. The bill is still being debated by Parliament so it is a wait and see at this time.
Jamaica's political landscape is changing and more efforts are now being made to address matters of corruption and accountability. Jamaicans are increasingly becoming aware of their rights and are demanding a greater level of accountability from their political representatives. The proposal to finance party operations from state funds is not however sitting comfortably in the public domain as persons are still dissatisfied with the performance of political parties regarding constituency and people needs. No accountability mechanism is currently in place that mandates political parties to report to the population what they have done with financing they have received. The proposed amendment to the ROPA is designed to strengthen accountability among political parties. In a tight fiscal space, however, it is inconceivable that the Government of Jamaica can afford another line item in its budget. It is apparent that the provision of state funding to political parties is one of the government's priorities, or at least this is an important action right now for which the state is willing to pay. It is only a matter of time before Jamaica will truly benefit from this change in the political culture.