Exploring Alternative Energy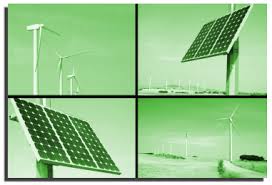 As Jamaica grapples with the rising cost of energy amidst energy inefficiency, more thought has been put toward using alternative energy sources to offset the country's dependence on oil. The reality that approximately 95 per cent of the energy Jamaicans use is derived from imported petroleum makes the call for alternative energy all the more urgent. Yet this is not a new call as from as far back as the 1970s Jamaica was talking about going solar in a big way, yet the most we can show for it are solar panels on a few office buildings and in some affluent residences, and a number of solar water heaters on rooftops. Jamaica is under pressure to cut the cost of oil imports and provide enough power for productivity and international competitiveness.
The National Energy Policy 2009 - 2030 also seeks to create energy diversification by reducing the share of petroleum in the energy mix from the current 95% to 30% by 2030. This diversification will introduce alternative energy sources comprising 70% of the energy mix to consist of renewable energy, natural gas, coal or petcoke, and other energy sources by 2030. Many in the energy sector believe it is an unattainable target given Jamaica's current consumption patterns and the slow pace of energy reforms within the public and private sectors. There is no doubt that to slash the country's oil import bill and reliance on imported oil serious exploration of alternative sources of energy is vital. Time is fast running out even as the government of Jamaica has still not settled on the supplier of the 360 Megawatt power plant to be powered by liquefied natural gas. This additional power capacity was to boost the Jamaica Public Service power grid and reduce the electricity cost to consumers by up to 45 percent from the current US$0.42 cents per kilowatt hour.
In the meantime, the government experiments with wind energy (through the Wigton Wind Farm) that adds approximately 3% to the overall electricity generation, and E10 fuel (a fuel blend consisting of 10% ethanol from the sugar cane) have not made much of a dent on Jamaica's fossil fuel usage. A number of private alternative power supply companies have also sprung up across Jamaica and householders are taking advantage of the relatively lower cost and availability of credit to install photovoltaic solar panels and batteries, wind turbines, and other power systems and they are seeing tremendous savings on their electricity bills. Government policy initiatives to assist this growth in alternative power usage include the removal of taxes on solar equipment and batteries, and the enactment in 2011 of the Electric Lighting Act to give the Minister power to grant licenses to individuals who wish to provide electricity for private or public purposes, and to sell excess electricity to the National Grid.
The achievement of the National Energy Policy strategy for a flexible and creative energy sector that adopts and adapts new and appropriate technologies is still not within reach. To achieve the targeted reduction in oil import means a concurrent increase in the share of alternative energy. It will take tremendous political will, extensive research and development, and comprehensive public education to enable Jamaica to achieve this energy goal.