Charged but unfit to Plead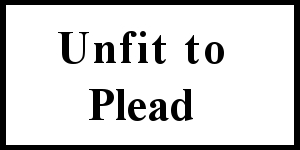 The beating death of 31 year old Mario Deane and the subsequent arrest of two men, one of whom is described as schizophrenic, has brought to public attention the situation concerning the mentally challenged who are in police lock-up. While it is not surprising that someone has been charged with the death of Mr. Deane shortly after the incident, it is strange to many observers that the two men who have been charged with his death so far are actually persons of questionable mental health. A third man, who is described as a deaf mute is being processed to be charged as well. The question of whether any of the men who are mentally challenged will ever be able to plead becomes relevant when you take into consideration what happens to persons who are charged with an offence but are rendered unfit to plead.
Jamaica does not have a proud history of fair treatment of persons who are deemed unfit to plead. In fact, serious deficiencies exist that pose a real risk to the protection of human rights. The Criminal Justice (Administration) Act was amended a few years ago to enhance the protection of persons who are considered unfit to plead and stand trial for an offence on account of their fragile mental state. This landmark amendment came as a result of the case of Ivan Nettleford, a 77 year old man who was released from remand in 2002 after 29 years without trial after being lost in the system. The fact that after his arrest in 1972 for malicious destruction of property, he was never brought back to court but was instead sent to the St. Catherine maximum security prison is a serious indication of a major weakness in the workings of the justice system.
Certainly, the two men charged with Mr. Deane's murder will have to be psychologically assessed to determine whether they are fit enough to enter a plea, but everything depends on the result of this psychological assessment, whenever this is done. The amendment to the Criminal Justice Act in the wake of the Ivan Nettleford case was to enable regular review of remandees after they were first found unfit to plead, as well as to allow for legal aid for those persons. What this means therefore is that for these two men regular assessment, if found unfit to plead, is necessary and legal aid must be provided if they are without an attorney.
The Department of Correctional Services have among its population more than seventy remandees who are mentally challenged, some of whom remain unfit to plead. A significant number of them have been in the system for well in excess of five years because they cannot plead. Among this group are elderly men who have been with the system since the 1970s and 1980s, and whose mental state have been so badly damaged that they have been diagnosed as schizophrenic and unfit to plead. No mechanism to remove them from a correctional facility exists, and these men will remain in prison, charged with an offence for which they cannot be tried because of their deteriorated mental state. Will this be the fate of these mentally challenged men charged with the murder of Mr. Deane?