Responding to a Water Dilemma - What can Jamaicans Do?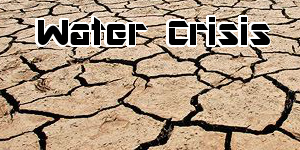 The year 2014 is the hottest year on record, according to meteorological forecasters, and the weather phenomenon, El Nino, has played havoc on global temperatures and rainfall. Jamaica, the land of wood and water, has not been spared and the word from scientists is that the country has an 80% chance of continuing to face the effects well into December and afterwards. The expected rainfall during May and June did not occur and the resulting drought conditions have worsened toward a crisis. A Government sanctioned prohibition notice on the washing of cars, filling of swimming pools, watering of lawns and other actions that use excess amounts of water is currently in effect. Even with a few scattered showers during the month of August, the conditions that sparked government's latest action have not sufficiently eased.
How bad is it really?
Jamaica is in the Hurricane Season and the next rainy period is also scheduled for October to November, yet the meteorological forecasts do not see any restoration of rainfall in the normal amounts anytime soon. Just how bad the situation really is? The National Water Commission (NWC) has reported on its website that rainfall levels for the month of June in all parishes, except Westmoreland, fell to only 30% of what these parishes would have normally received. Water supply systems managed by the NWC have also experienced serious reduction in volume and from a total of 460 systems in both urban and rural areas, some 120 have seen volumes drop by between 20% and 100%. Most of these systems are supplied by springs and rivers and you may have noticed that a number of them have dried up or are now mere trickles.
What are the options?
The fact is that water collection systems that are supplied by rivers and springs will go dry faster than those supported by underground water sources, such as wells. The question of de-silting the larger water collection reservoirs - Mona and Hermitage - which are said to be about 60% silt, has been ruled out by experts who believe that this costly undertaking is not feasible at this time. The construction of new reservoirs and dams seem to be options not currently on the table nor is the option to construct desalination plants, which are regarded as highly costly and energy intensive undertakings. Without the means to effectively implement increased water collection and storage infrastructure to shore up the aging infrastructure that Jamaica currently has, the only thing to do is to be content with what we have now and to curtail water consumption habits through conservation.
This means, until the next real showers, the restrictions that are currently in place must remain and Jamaicans must consciously practice habits such as turning off water while soaping in the showers, turning off taps when not in use, fixing all leaks around the home, recycle and reuse water as much a possible, avoid washing cars with running hoses (or not at all), and installing water conserving technology such as low-flush toilets. In times like these everyone needs to be more alert to ways of saving this precious commodity and avoid the inconvenience of water lock-offs.